The cattery

My love for birmans started in 2002 when Funny, a beautiful chocolate tabby point, one of the first born in Italy, arrived at home. I decided for a show quality female to have some litters but when the first arrived I decided to breed this wonderful cat: the miracle of life, the kittens that play at home... is a great experience that I wanted to repeat. In 2005 I was looking for a lilac girl and I found Ammie, the lilac point female too much desired and from a blood line completely new in Italy. From Funny and two beautiful tabby point, coming from Las Perlas-sin of Bettina Rode, were born the royal Louis and the sweet Mistral.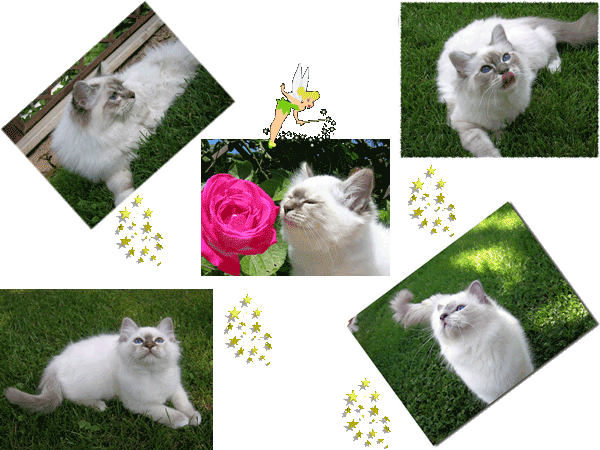 On April 11th, 2006 my breeding of Sacred Cat of Burma was approved by FIFe and ANFI with the name

.
In 2009 Pollon, Pretty Woman and Pink Panther were born and now they belong to my breeding program.
In 2010, after a long waiting, Uriel, a sweet lilac point male with the distinctive Las Perlas-sin look, came from Germany.
In 2011, after many years of breeding, Stars 'n' Stripes, daughter of Pollon, and Shanti Kamala, daughter of Pink Panther, were born. In 2013 arrived Victor Victoria, Funny's last kitten, and in 2014 I kept the cream female, Ylang Ylang, daughter of Shanti and Windchime Valentine Sweetheart. In 2016 I kept Bridget Jones, a blue torbie point female, last daughter of my Louis and Benji Boy, son of S*RausHöjden Fit for Fight and IC Windchime Victor Victoria. In 2021 a blue point princess reached us from Denmark to join our magical family Windchime, Nuance's Blue Marine.
Windchime is member of A.Ga.Bi., the italian birman club, since 2002. Several Windchime kittens live abroad (Australia, Belgium, Estonia, Germany, Hungary, Spain, Switzerland etc.)
My goal is to breed healthy kittens with a very good temperament, looking always to the standard. This passion brought me to study to become an International FIFe Judge. In september 2014 I passed my judges exam in category 2 and the last of the required stages near Milan on 5th october 2014. I'm as from that date appointed an International Judge for category 2. I'm also International Judge for category 1 since 2016.
I wish you a pleasant visit to my website